Cape Cod Bathroom Remodeler
Is the bathroom your least favorite room in the house? Do you dread going there because of the outdated fixtures and dark, cramped shower? A Cape Cod bathroom contractor can easily solve this problem, leaving you with a bright, calming oasis that reduces anxiety instead of contributing to it.
You could be left with the bath of your dreams, complete with a soaker tub and steam shower. But for this to happen, a bathroom renovation is in order. Call The Finish Team to get the project started.
Why Focus on a Bathroom Renovation?
Kitchens and baths are high-traffic areas in most homes. They can also raise or lower your home's resale value. For these reasons, a kitchen or bathroom renovation is a sound investment. But on the more personal side, your bathroom should fit the way you live.
If it's been more than five or 10 years since you've updated this space, it's time to shake things up. Reconfigure the room to make it feel more spacious. Add windows to bring in more natural light. And install safety features, such as grab bars or curbless showers, to make older family members more comfortable. A Cape Cod bathroom contractor will help you determine which upgrades you'll find most valuable.
Best Features to Include in a New Bath
Consider the planet when you picture your newly renovated bathroom. Incorporate low-flow, water-saving fixtures and sustainable choices in flooring. You can have these and still feel pampered in your new version of a home spa. Custom-built cabinetry and easy-care countertops will make the space your own, and a calming color scheme ties it all together. Whether you dream of a rainfall shower head that's Bluetooth enabled or a luxurious walk-in tub with easy access, there's no reason your new bath can't accommodate your vision. The key is to work with an experienced Cape Cod bathroom contractor to get the job done right.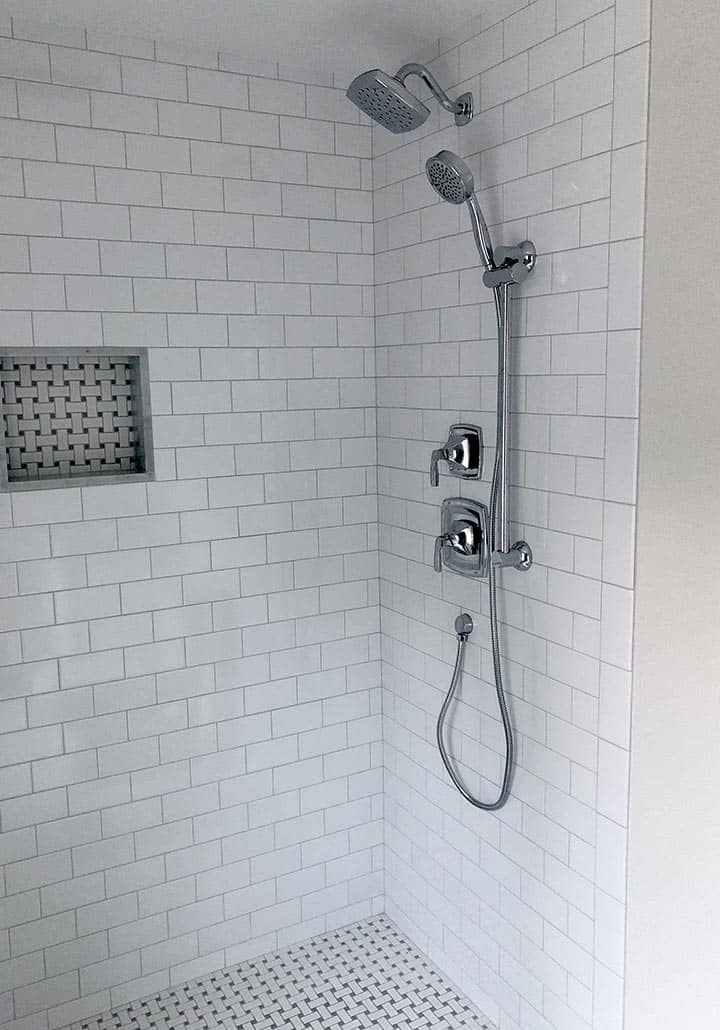 Before & After
The owner of this shower in Osterville wanted to update from their grimy old tub surround to a modern curbless shower complete with floor to ceiling tiling and a luxurious rain head system. Now every day is a spa day!
VIEW MORE PHOTOS
Who to Call for Cape Cod Bathroom Remodeling
When you're ready to begin your new bathroom renovation, call The Finish Team, a top choice in Cape Cod bathroom remodeling. We'll work with you to add the modern features you want without sacrificing the charm and beauty of your existing space. Your newly renovated bath could be the bathroom of your dreams if you call today.
Bathroom Design Ideas